Regulatory Intelligence

Reduce risk to your organisation, let our intelligence work for you.
Anticipate and navigate the global regulatory environment with confidence
Banking, financial services, and insurance sectors continue to experience unprecedented volumes of regulatory change and complexity. Thomson Reuters' Regulatory Intelligence helps you gather, monitor, and analyze regulatory data and track developments in a rapidly changing environment. It empowers you to make well-informed decisions to confidently manage regulatory risk, while providing the tools to take proactive action change within your organisation.
We've partnered with many of the market leading GRC platform providers to pre integrate the Regulatory Intelligence content – simplifying the and accelerating the implementation process. The Regulatory Intelligence API also enables you to incorporate market leading content with your existing platforms and workflow solutions, allowing you manage your risk in a more efficient, smarter way.
Access the most trusted intelligence available in a single solution
Create customised monitoring profiles to keep track of business-relevant regulatory developments
More than 1,200 regulatory bodies and more than 2,500 collections of regulatory and legislative materials
Choose how you access based on the needs of your organization – desktop platform or integrate it with your own workflow software
Perform efficient horizon scanning and compliance processes all with the convenience of staying within your organization's workflow software
Allows businesses to streamline, track, understand, and manage compliance requirements.
Our world class global regulatory experts and editorial team analyze news and events daily and provide analysis and practical guidance.
Less complexity. More clarity.
Cut through the complexity and sheer volume of regulatory updates prioritize actions that are most critical for your organization with Thomson Reuters Regulatory Intelligence.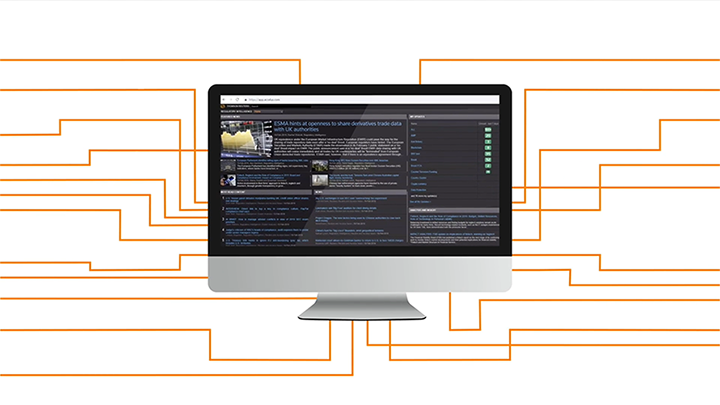 01:23
Meet the Asia-Pacific Regulatory Intelligence experts 
Rely on a world class global team of journalists publishing daily analyses, best practice guides and news covering current Compliance trends and Financial Crime.
Regulatory Intelligence, Managing Editor – APAC
Nathan Lynch is an experienced writer, public speaker, and technical specialist in the fields of financial crime intelligence, technology, and regulatory risk. At Thomson Reuters, Nathan leads a team of subject matter experts who provide breaking news, deep analysis, and practical guidance to clients in the global financial services sector. He manages the Thomson Reuters award-winning Regulatory Intelligence team across the Asia-Pacific region, tracking developments in financial services law, AML/CTF, and risk management.
Nathan is a certified "Digital Forensic Incident Response Specialist" with the United States Department of Justice's internationally respected CCIPS Cybercrime Laboratory. He holds an Honours degree from Australia's Curtin University and is a member of the Australian Institute of Company Directors (AICD).
Regulatory Intelligence Expert
Helen Chan is the Regulatory Intelligence Expert for Canada and the Greater China region. Helen first joined Thomson Reuters in 2010 and has extensive experience in the fields of commercial law, regulatory risk and corporate communications. Having worked in leading financial hubs, including New York, San Francisco, Shanghai, Hong Kong and Toronto, Helen has an intricate understanding of legal, compliance and cultural challenges pertinent to modern-day cross-border businesses.
Helen holds an Honors Bachelor of Arts in Media Studies from the University of Western Ontario and a Juris Doctor degree from Queen's University in Canada. She has been licensed to practice law in the state of New York since 2011.
Senior Regulatory Intelligence Expert
Niall Coburn is the Senior Regulatory Intelligence Expert, Asia Pacific joining Thomson Reuters in 2013 and has more than 20 years' experience in financial markets regulation. In 2002, he was awarded an ASIC Australia Day Honour Medal for his work in corporate investigations. He has written a book on corporate investigations and insolvent trading and is a Barrister of the High Court of Australia. Niall regularly is a commentator in the media relation to financial investigations and corporate collapses.
Niall holds a Bachelor of Arts in Economics and law degrees from University of Tasmania, a master's degree in law from Melbourne University and a Diploma of Business Administration from Mt Eliza Business School.
Regulatory Intelligence Expert
Yixiang Zeng is a Thomson Reuters Regulatory Intelligence Expert based in Singapore, covering southeast Asia and greater China regulatory developments. Prior to this, she had about nine years' experience writing on asset management, oil trading, financial regulations, and legal ranking related topics. Yixiang earned her master's degree in broadcast journalism at the University of Westminster in London, and received a part-time degree in accounting and finance at the University of Essex. She previously worked in London and Hong Kong.
Take the next step with Regulatory Intelligence

Contact us today to learn more about how Regulatory Intelligence can keep your organization in touch with the constantly changing regulatory landscape